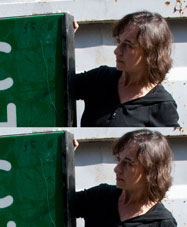 ALEKSANDRA MIR
ist Künstlerin. Sie studierte an der Universität Göteborg, der School of Visual Arts und an der New School for Social Research in New York. Einzelausstellungen u.a. am P.S. 1 Contemporary Art Center New York (2004), im Kunsthaus Zürich (2006) und der Schirn Kunsthalle Frankfurt (2009); Gruppenausstellungen u.a. Palais de Tokyo, Paris (2003), Whitney Biennial (2004), Venice Biennale (2009). Die geborene Polin ist schwedische und amerikanische Staatsbürgerin und lebt zur Zeit aus dem Koffer.
12.00 Uhr
Who Cares about Sculpture? I Just Want to Make Impossible Things! What are the sculptural qualities of 1 million postcards that weigh 16 tonnes, arrive at the Venice Biennale in 3 trucks and then are scattered to the winds by the public? What are the time and space co-ordinates for a helium-inflated jet plane, left to hover above the ground in a »permanent state of landing«? What is the level of frustration associated with being stuck with a storage bill for 2,520 sporting trophies collected and called »art«? What is monumental about a 22-metre rocket built out of industrial debris that is discarded at a scrapheap after 3 days? What are the legal thresholds and administrative consequences of attaching 50 kg of sticky marzipan to a series of priceless plaster casts of antique statues in order to »fix« their broken noses, fingers and toes?
These are all works and situations by Aleksandra Mir, which she will discuss during her presentation.