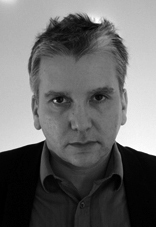 MARK FISHER
Mark Fisher is the author of Capitalist Realism (2009) and Ghosts Of My Life: Writings on Depression, Hauntology and Lost Futures (2014). His writing has appeared in many publications, including The Wire, Frieze, The Guardian and New Humanist. He is Programme Leader of the MA in Aural and Visual Cultures at Goldsmiths, University of London. He has also produced two acclaimed audio-essays in collaboration with Justin Barton: londonunderlondon (2005) and On Vanishing Land (2013).
4.45 p.m.
Relics of Lost Futures‬
The current era of capitalist realism is haunted by a ghost of lost futures – other virtual worlds that we were led to expect, but which were never actualised. The contemporary moment, in fact, is marked by a strange absence of futurity: a sense of living in a present that is almost entirely constructed from the past. In what ways do these lost futures impinge on our present? What material traces of these futures can we find in contemporary culture – and how, if at all, might they contribute to the delayed arrival of these other possibilities?